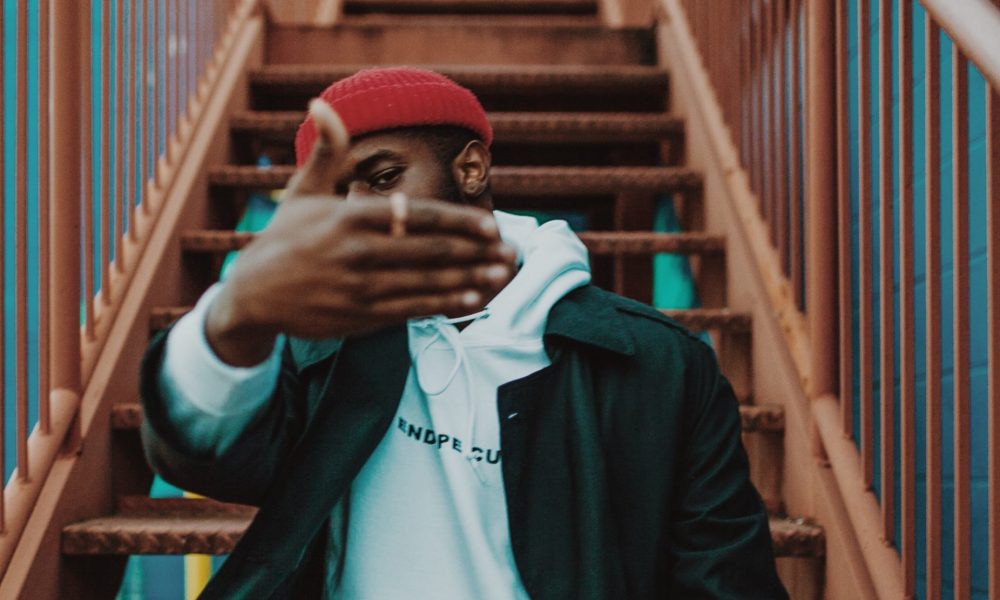 Latif Rashad is the next entrepreneur to watch out for! Born in Brooklyn, New York and raised in Stone Mountain, Georgia, Latif has created a way to express his street style while incorporating messages to create social change. His latest collection, End Rape Culture, brings social awareness to sexual assault with the hopes of educating society about rape culture and finding a way to bring an end to it. Latif Rashad is creating more than a strong fashion statement; he is evoking social change through fashion. Luckily, All Urban Central got the opportunity to interview Latif about his brand and the mindset behind his creativity.
Q: Before we get into the collection, End Rape Culture, tell me about Wisdom Fashion House for those who may not be familiar with your company.
In tenth grade, I started Wisdom. I went to Redan High School and I was in to selling sneakers, buying sneakers, and fashion. Eventually, I had this love for wearing logos and it becoming your lifestyle by representing who you are. Therefore, I created Wisdom. I felt like when people wore Wisdom, it was reflecting how I felt about life and knowing exactly what you want to do. To me, Wisdom means knowing yourself and I reflected that with my brand. I sold shirts at Redan High School and sold out within a week. Then, I had this epiphany of trying to figure out if this is what I wanted to do for a good portion of my life; I said yes to myself. I remember hearing that voice telling me that I really wanted to do this. Coming from Redan with an idea and the belief in myself, other people began to believe in me, followed my message, and took something from it. Now, I'm building something.
Q: Other than being the creator and founder of Wisdom, what are your other roles within the company?
Everything. I deal with designing, marketing, sales, shipments, hiring interns, speaking on behalf of the brand, and working with collaborators for collaborations. I literally do everything. I also have a team behind me that helps in different ways. I have a financial advisor who is also my investor and "go to" person for how we conduct the fashion shows. Overall, I do everything.
Q: How was End Rape Culture created?
The slogan was created by Austin Colmen. He was my creative director and he came to me and said that I should use the slogan for Wisdom and it became a collection.
Q: How do you define rape culture?
When I started, I did not know what rape culture was, so I had to learn. I loved learning about rape culture because doing things like this inspired me to be more of an activist and have something to stand behind. Rape culture is systematic. It's more than just the action of rape, it's more of how we view the world and speak to each other. Rape culture is something that is pushed on to us by society and given the title of normal. It's almost like hypersexuality of a man- that's normal. We have music speaking about the degradation of women- that's considered normal. If you look at it from a different perspective, it's kind of sick and somehow, we still follow these things that we don't even believe in. Rape culture goes even further than that. Rape culture is being in the household and you have parents that are not that strict on their son when dealing with girls but when their daughter begins to deal with boys it's a problem. We have this idea that a woman is supposed to be a pure being that's different from a man, but we're both human. When you put people in those boxes, it makes them feel as if they are being something that they're not. Those ideas transfer into rape culture.
Q: Since you all are supporting and promoting the end of rape culture, with every sale that is received, is there a certain amount of proceeds that goes toward victims of rape?
Yes. We give back to different organizations and different causes. In the past, we have given to Georgia Network to End Sexual Assault (GNESA). Also, we work alongside Rape, Abuse, and Incest National Network (RAINN) that creates shelters for victims that have nowhere else to go and supports victims that want to speak about their trauma.
Q: I understand that you have a collection with 21 Savage. Can you go more in depth with that collection?
I was in Whole Foods having a meeting with some friends. Christina, one of my closest friends, called me and told me that 21 Savage was in town and he wanted a brand to collaborate with. Next thing you know, I'm on the phone with 21 Savage's manager and they are telling me they want to collaborate. I ended up creating the design overnight, and I was so excited. After the brand was made, we went to his concert and our collaboration sold out before any other 21 Savage merchandise that they had for sale.
Q: Are you working on any other collaborations or collections?
I haven't locked in any collaborations but it's stuff that I want to do. I want to collaborate with Kenzo. I like them a lot because they are a nostalgic brand that looks like what Wisdom will be in the years to come. That would be dope to work with them. I like Atelier New Regime too. Their brand is all orange and they document the things that they do creatively for their brand. I think it would be really cool if they came to Atlanta. When it comes to an individual, I have not thought of anyone. Honestly, when people reach out to me and their idea looks cool with something I can build on, then I'll do it.
Q: Where can people purchase the collection?
The collection can be purchased from https://www.wisdomatl.com/ .The collection can also be found at Wish on Moreland Avenue in Atlanta, Georgia. Soon, we will be working with different boutiques and doing a statewide tour across the nation. My goal is to open a flagship store in Atlanta and have my clothes only be sold there and nowhere else.